Nowadays..
Lee,Eun Oak solo exhibition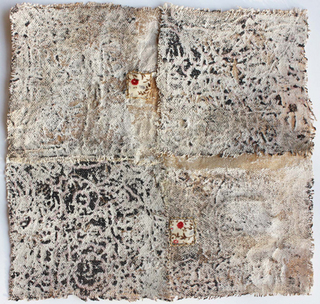 2014年2月19日(水)〜 2月22日(土)
12:00〜20:00
【 introductory essay 】
Nowadays
prologue
This exhibition is the first of a trilogy that attempt to flesh out my ordinary but important thoughts from my daily life in middle years. My thoughts, which will be shown in artworks in the trilogy, consist of 'pieces of memory from my younger days,''happiness and uncertainty in my present day,'and 'wishes for my near future.'In the first of a trilogy, 'a piece of memory from my younger days,' I attempt to express myself through "Collage" which reflects correct, but not perfect memories and indistinct memories including anything I feel that is the only remaining piece of memory retention. To symbolize such memories and the turning point of my life, the blurred pattern of small flowers is featured in the works of "Collage" while using cotton diapers, which is the first textile I encountered in my whole life, and lime, which fades over time.
【作家プロフィール】Lee, Eun-Oak
 Professor, Textile Design Dept., Duksung Women's University
 Executive Committee Member, Korean Textile Design Association
 Executive Committee Member, Costume Culture Association
 Executive Committee Member, The Korean Society of Design & Culture
Education
 Master in Product Management , Istituto Artistico
 dell'abbilgliamento Marangoni,   Milano, Italy
 Diploma in Textile Design, Istituto Artistico dell'
 abbilgliamento Marangoni, Milano, Italy
 B.A in Fashion Design, Duksung Women's University, Seoul, Korea
Professional Experience
 Textile Designer & Stylist, Artemisia Textile Design Studio s.a.s, Como, Italy
 Textile Design Consultant, ANTEPRIMA Design Studio s.n.c, Como, Italy
 Textile Design Consultant, BOGGIA Textile Design Studio s.n.c, Como, Italy
 President, Alpha mi Omega s.a.s, Milano, Italy
Exhibitions
 1999  1st solo Exhibition, Craft Space Mokkumto, Seoul, Korea
 2003
2nd solo Exhibition, Artemisia, Como, Italy
 2014 3rd solo Exhibition, Irorimura Gallery, Osaka, Japan
 1992-1997 COMOCREA Textile Design Exhibition, Como, Italy
 1992-1997 INDIGO Textile Design Exhibition, Paris, France
 1992-1997 INTERSTOFF Textile Design Exhibition, Frankfurt, Germany
 1997-2002 Korean Textile Design Exhibition, Seoul, Korea
           Pattern Design Study in Textile Material Development,
           Gallery WoongJeon, Seoul, Korea
 1999 Korea Art Professors Invited Exhibition, Gongpyung Artcenter, Seoul, Korea
 2000 Summer Textile Products_ Invited Exhibition, Craft Space Mokkumto, Seoul, Korea
 2002 2002 Digital Textile Design_ Invited Exhibition, Textile Center, Seoul, Korea
 2002 My favorite Shawls_ Invited Exhibition, Craft Space Mokkumto, Seoul, Korea
 2003 Korea Japan International Fashion Invited Exhibition,
       Bunka Women's University Art Gallery, Tokyo, Japan
 2003 Art & Korean Beauty_Invited Exhibition, Anthem Gallery, New York, USA
 2004 Digital Textile Printing Specialist Work_Invited Exhibition,
       Insa Art Center, Seoul, Korea
 2004 Korean Art to Wear_Invited Exhibition, Art Gallery Bunka Gakuen, Tokyo, Japan
 2005 Korean Beauty_Invited Exhibition, Milleplateaux gallery, Paris, France
 2006 Korean Beauty_Invited Exhibition, Marangoni Gallery, London, UK
 2007 Korean Weave_Invited Exhibition, Marangoni Gallery , Milan, Italy
 Numbers of Group Exhibitions at home and abroad

Research & Development Projects
 2000 Apparel Product Design for 2002 FIFA World Cup Korea-Japan, CPP Korea Inc.
 2000 2002 World Cup Souvenir Design for Hyundai Motors(official partner),
       Hyundai Motors Inc.
 2002 Research on an Educational-Industrial Cooperation
       for the Textile Education System promoting the regional
       specialization of textile materials, National Research
       Foundation of Korea
 2002 Korean Traditional Textile Materials for electronic book
       1, 2, 3, Ministry of Culture & Tourism
 2002 Development of Textile Database, Korea Institute of Design Promotion
 2003 Development of Art Textile for musical "Little Dragon" 1, 2 LATT Inc.
 2004 Comparative Study on Brand Strategies of Traditional
       Textile Industry between Korea and Italy, Amore-Pacific
       Scholarship Foundation
 2003-2005 Development of an International Cooperation Program
           for Fashion Textile Materials between Korea and Italy,
           Ministry of Commerce, Industry and Energy
 2006 Innovation for Jinju Regional Silk Industry, 2006,
       Korea Silk Research Institute
 2006-2008 Promotion for Strategic Textile Industry Cluster
           in Seoul, Seoul Development Institute
 2008-2010 Development of Smart Knit Product, Small
           and Medium Business Administration
 2010-2011 A Study On The Relation Between The Business Cycle
           And Textile Pattern Design During The Period of 1950-2010,
            National Research Foundation of Korea
















【関連する記事】